BOTOX® and Juvederm® Racine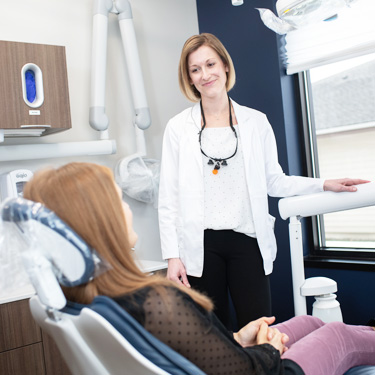 Are wrinkles on your face adding more "character" than you'd like? Do you wish you could restore lost volume in your face? At Belle City Family Dentistry in Mount Pleasant, we feature BOTOX and Juvederm to improve your appearance and more.
BOTOX
BOTOX, which immobilizes muscles which cause facial expressions, lasts for 3-4 months. Dr. Olesen has extensive training in administering BOTOX injections. While it's best known for its cosmetic applications, BOTOX also can help with the following:
Improve a gummy smile
Decrease TMJ pain
Reduce myofascial pain
FAQ
What happens during a BOTOX treatment?
Dr. Olesen will inject BOTOX with a small needle directly and precisely into the muscle that produces moderate to severe fine lines and wrinkles. This in-office treatment is quick, taking just 15 to 20 minutes. You can fit a BOTOX treatment into your lunch break. 
How soon will I see a difference?
You can expect to see results within days after your treatment.
What kind of results can I expect?
You should expect visible results for up to four months. After that, you may wish to return for a follow-up treatment. There are some side effects to be aware of. These include pain and redness at the injection sites. Facial pain and muscle weakness also may occur. These effects typically occur within the first week and usually go away on their own.
Juvederm
Juvederm is a family of dermal fillers used for facial enhancement. It was approved by the Food and Drug Administration (FDA) in 2006. During this cosmetic procedure, Dr. Olesen injects hyaluronic acid into the targeted areas where you wish to add volume to facial tissue. Juvederm also can be used to plump up thin lips to achieve a fuller, pleasing appearance.
FAQ
First, you will have a consultation with Dr. Olesen. Based on your goals, she will determine a treatment plan. We will then have you schedule a 30-45 minute appointment for the treatment.  Although Juvederm is pre-mixed with lidocaine to minimize discomfort, we will ask that you apply a topical numbing cream 45 minutes before coming to the office.  After she gives you the injections, we will provide you with cold packs to apply to the areas that were treated.
Are there any side effects with Juvederm?
Side effects are moderate and typically last 2 to 4 weeks. These include temporary reactions at the treatment site. These include tenderness, swelling, firmness, lumps/bumps, bruising, pain, redness, discoloration, and itching.
How many syringes of Juvederm will I need?
Most nasolabial folds will usually require two syringes for complete correction. In the cases of mild nasolabial folds, one syringe of Juvederm is sometimes all that is needed. For lip augmentation, we typically just need to use one syringe to enhance lips. You can achieve a noticeable yet subtle difference. With the aging process, our lips gradually lose volume. If your lips are very thin we may need to use two syringes of Juvederm.
Get Started Today
Would you like to see what BOTOX or Juvederm can do for you? Contact us today to book a consultation!
CONTACT US »

BOTOX® and Juvederm Racine, Mount Pleasant, Caledonia, Sturtevant & Wind Point WI
(262) 633-4000