Dental Implants Racine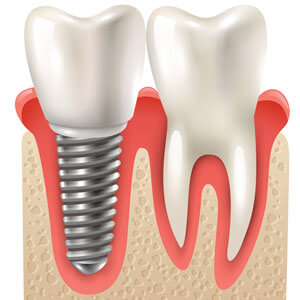 If you have one or more missing teeth, your confidence likely has taken a hit. At Belle City Family Dentistry serving the Racine & Mount Pleasant areas, we can help through the placement of a dental implant. After an initial examination, Dr. Olesen will discuss your options in regards to replacing your missing tooth or teeth to make sure you are well informed. If you want to proceed, she will refer you to a trusted specialist to insert the dental implant.
What Does Getting an Implant Involved?
An implant is comprised of a titanium screw and a post that is covered with a restoration. This could be a crown, bridge or denture. The specialist will set the implant into the jawbone where it replaces the tooth root. After a several month period has passed, the implant fuses to the bone, so it now looks and performs just like a natural tooth.
To determine if you are an ideal candidate for an implant, Dr. Olesen will evaluate your mouth to make sure there is sufficient bone available to secure the implant. Impressions are then taken to provide the necessary mold for a customized implant.
When the implant is ready to be inserted, the specialist excises the gum at the insertion site to expose the bone. The implant is then inserted, and the gums surrounding the implant are stitched to close up the incision. Once the implant is firmly embedded into the bone, a post is attached to it.
During the initial implant placement, a few of the surgeons she works with can sometimes do an immediate temporization. It's a case by case basis and the surgeon's call. If they feel that there's enough initial stability, then we can provide a temporary restoration that same day.
Placement of Crown or Bridge
After the required healing period has taken place, you would come in for an appointment with Dr. Olesen. She will fabricate a crown or bridge to place on top of the implant post. Your new crown or bridge will feel secure, look natural and blend in with your smile.
FAQ
What is the success rate of dental implants?
The success rate varies from person to person. For a healthy individual who practices good oral hygiene habits and who is in good health, dental implants have reported success rates above 90-95 percent.
How do I properly care for my dental implants?
If you maintain optimal oral hygiene, dental implants can last for many years. It's crucial that you brush at least twice a day, floss once daily and visit the dentist twice yearly for a checkup and cleaning. Getting dental care can help to keep your gums, bone and implants in peak condition.
Rest assured that the surgical site is always kept numb during dental implant surgery. The specialist Dr. Olesen will refer you to can provide various anesthetic options to keep you comfortable. As the anesthesia wears off some time after the procedure, any mild discomfort you may feel can be easily alleviated with over-the-counter painkillers.
Ready to Restore Your Smile?
Regain the function and appearance of your smile. Contact us today to book an appointment!
CONTACT US »

Dental Implants Racine, Mount Pleasant, Caledonia, Sturtevant & Wind Point WI | (262) 633-4000