Partial and Complete Dentures Racine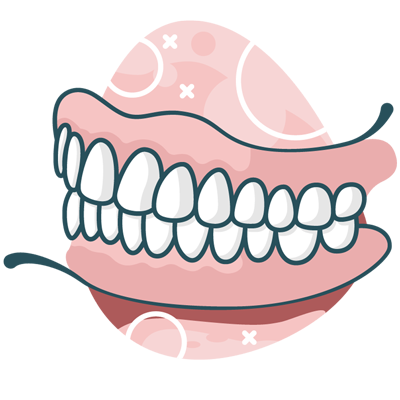 Commonly referred to as false teeth, today's dentures are more comfortable and natural looking. The dentures of today are definitely not your grandparent's dentures.
There are two main types of dentures.
Full Dentures that replaces all your teeth
Partial Dentures that replace several missing teeth
Both types may necessitate that some teeth be pulled. Surgery on the bony ridges beneath the gums may be required to accommodate your new dentures better, so they have an ideal feel and "fit." At our practice, we feature dentures without implants, implant-supported dentures, and overdentures, which are a more cost-effective option.
We begin by taking an impression of your teeth which is used to custom make your dentures. A high-quality lab will create your dentures. About five appointments are needed over a 2-3 month period, depending on the complexity of your case.
If you're getting full dentures, and any tooth removal is necessary, we will provide you with a temporary denture. Dr. Olsen will place it to help foster healing and to provide "teeth" while your gums heal. She will furnish you with a final denture after all healing has taken place, usually within 6-12 months.
You will get to test your denture with a wax "try in." At this stage, we can make any changes you'd like before committing to the final dentures. Your complete satisfaction is our goal. We'll take your feedback into account so we can make sure you're happy with your dentures before the final result.
Caring for Your Dentures
You should remove both full and partial dentures at night before you go to sleep. Doing so permits saliva to "wash" over your gums to help keep your mouth healthy.
Ready to Discuss Dentures?
If you'd like to discuss denture options, we invite you to contact Belle City Family Dentistry serving the Racine & Mount Pleasant communities today to book a consultation.
CONTACT US »

Partial and Complete Dentures Racine, Mount Pleasant, Caledonia, Sturtevant & Wind Point WI
(262) 633-4000