Teeth Whitening Racine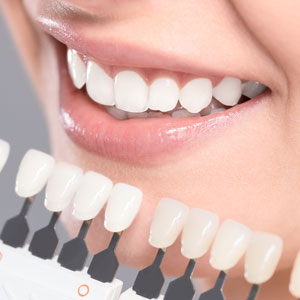 Are your teeth stained or lackluster from coffee or wine consumption? Do you hesitate to smile because your teeth are tarnished? If you'd like to brighten your smile and boost your confidence, consider teeth whitening at Belle City Family Dentistry serving the Racine & Mount Pleasant communities.
KöR® Whitening
We offer KöR Whitening, which is classified as both an in-chair and at-home whitening treatment. We chose to offer this brand to our patients as KöR Whitening is widely considered to be the most effective teeth whitening system ever developed. This brand renews the ability of your teeth to absorb oxygen. Oxygen from KöR Whitening gel is absorbed deeply into the tooth, breaking up stain molecules.
What Results Can I Expect?
Fantastic ones! This system lightens teeth significantly, up to 16 shades or more. Although every person is different, of course, with the proper KöR Whitening System, virtually all teeth will achieve remarkable results. KöR is even able to brighten tetracycline-stained teeth significantly, which was previously thought not possible.
In-Chair Whitening
KöR's In-Office Power Whitening system boasts constant refrigeration and Tri-Barrel delivery system. The benefit of this feature is the system has an enhanced ability to quickly penetrate tooth microstructure and provide the most effective in-office whitening that's possible.
This option may be ideal for you if you don't want to wear whitening trays at home. It's important to know, however, that whitening results of any in-office-only power whitening system are not as predictable as other options and may need to be repeated in the future to maintain the whiteness.
Take-Home Trays
Molds of your teeth will be made to craft your unique, ultra-comfortable KöR-Seal whitening trays. You and Dr. Olesen will select which level of KöR Whitening is the best fit for you. Most patients wear their KöR-Seal Whitening Trays at home for two weeks while they sleep, or a daytime whitening option is available as well. Depending on the type you choose, you may need to come in for one or two simple whitening visits in our office.
FAQ
Is KöR Whitening safe for my teeth?
According to decades of scientific research and millions of whitening cases, KöR Whitening is completely safe for teeth and gums.
Will I experience sensitivity?
During the whitening process, most patients typically experience very minimal to no teeth sensitivity.
Are the take-home trays comfortable?
Yes, they are so comfortable that most patients wake up in the morning having forgotten the trays are even in their mouths.
How long does my treatment last?
With simple periodic at-home maintenance treatments, your teeth will remain white permanently, even if you continue to drink red wine, coffee, tea, etc.
What can I do to keep my smile looking bright?
Keep up with your oral hygiene regimen of brushing at least twice a day and flossing once daily. You also can use a whitening toothpaste (only once or twice a week) to remove surface stains. To keep your pearly whites bright, you also can touch up your teeth every six months or after a year.
Get a Brighter Smile Today
If you'd like to get a gleaming bright smile, contact us today to book an appointment! And be sure to check out the video above to see for yourself the incredible results people have achieved with KöR Whitening!
CONTACT US »

Teeth Whitening Racine, Mount Pleasant, Caledonia, Sturtevant & Wind Point WI | (262) 633-4000