Crowns Racine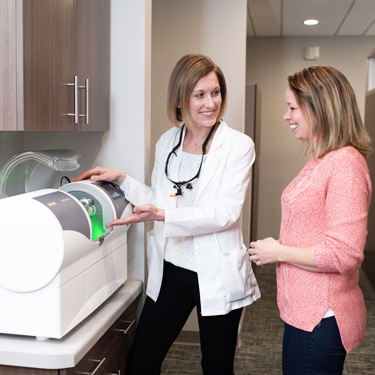 Crowns, also called "caps," are custom-made covers for teeth. They are used on teeth that have had a root canal, cracked or weakened teeth or teeth that are so severely decayed that a regular filling isn't sufficient.
At Belle City Family Dentistry in the Racine & Mount Pleasant surrounding areas, we utilize a porcelain material to make the crown. That's because it blends in seamlessly with your other teeth.
Custom Tooth Restorations
Using CEREC CAD/CAM computer guided milling technology, Dr. Olesen can create tooth restorations quickly and effectively in one appointment instead of the 2 or 3 visits previously required for ceramic restorations. These color-matched crowns are highly durable and long-lasting.
What Does the Process Involve?
Using our Cone Beam Computed Tomography (CBCT) scanner, Dr. Olesen can create 3D digital images of your tooth and mouth. Since your prosthesis is generated virtually, she will explain your treatment with visual assistance from these digital images.
Next, Dr. Olesen will precisely create your ceramic restoration on-site using specialized software and our CEREC machine. We will mill your crown from a solid block of ceramic. This typically takes about an hour. If you'd like, you can give you a peak of the crown creation process while our machine is running.
While your crown is being milled, we will prepare the tooth by decreasing its size so the crown can fit over it. When your crown is ready we will check the fit and make sure it is sitting comfortably and securely on your tooth. Any adjustments will be made at this time. When Dr. Olesen is satisfied with the crown, she will permanently cement it on the tooth.
In the final phase of the process, Dr. Olesen will ensure that it feels comfortable and natural and that your bite is correct.
How Long Does a Crown Last?
Your crown should last for life with proper oral hygiene and routine dental examinations and cleanings.
Ready to Get Started?
Improve the appearance of your smile with a natural-looking crown. Contact Belle City Family Dentistry today to book an appointment!
CONTACT US »

Crowns Racine, Mount Pleasant, Caledonia, Sturtevant & Wind Point WI | (262) 633-4000