Sedation Dentistry Racine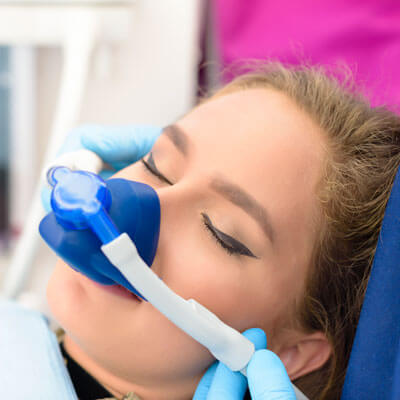 At Belle City Family Dentistry, we understand how real dental anxiety is for many people. Perhaps you had a negative experience at the dentist's office as a child that has kept you from getting the care you need. With sedation dentistry, you can be completely comfortable while you're getting dental care.
Local Anesthetic
This type of anesthetic is used to prevent pain in a specific area of the mouth during a dental procedure. It works by blocking the nerves that sense or transmit pain. As a result, the tissues of the mouth become numb. First, we can apply a topical anesthetic to numb an area to prepare for the administration of an injectable anesthetic.
Nitrous Oxide
Also known as "laughing gas," this sedative agent is considered to be safe and effective. Nitrous oxide is mixed with oxygen. Patients inhale it through a small mask that fits over the nose. It helps those who may be nervous about a dental procedure to relax.
IV Sedation (Sleep Dentistry)
This type of sedation is particularly helpful for patients with a gag reflex. When an IV sedative is given by a dental anesthesiologist, patients do not suffer from a gag reflex making it easier to proceed with different types of dental care or oral surgery. One of the main benefits of sleep dentistry is it allows more work to be completed in one appointment.
What Are Some Other Benefits?
There are many advantages to having IV sedation:
The effects are quick
There are fewer side effects compared to general anesthesia
The recovery time is faster than with general anesthesia
It's a safer option for people suffering from heart disease, diabetes, and circulatory disorders
An Expert Specialist
We use the services of an independent dental anesthesiologist who travels to various dental offices in southeastern Wisconsin. He has advanced training that allows him to perform sedation dentistry safely. He will manage the sedation and monitor you while you're sedated.
FAQ
Can I have IV sedation for any type of dental care?
Yes! IV sedation can be given for dental care ranging from routine checkups to more complex treatments. If you've been delaying seeking dental treatment because of fear or anxiety, we invite you to contact us. We know that many of our patients have had negative experiences in the past. Please know that we will never judge you. Our aim is to help you get the dental care you need now.
Can I drive myself to an IV sedation appointment?
As IV sedation requires an empty stomach and the effects linger for a while after your visit, it's vital that someone else drive you to and from your sedation appointment. You should also have another person stay with you for a few hours after your appointment.
Contact Belle City Family Dentistry Today
If you have additional questions about sedation dentistry or would like to make an appointment, book an appointment today!
CONTACT US »

Sedation Dentistry Racine, Mount Pleasant, Caledonia, Sturtevant & Wind Point WI | (262) 633-4000