Veneers Racine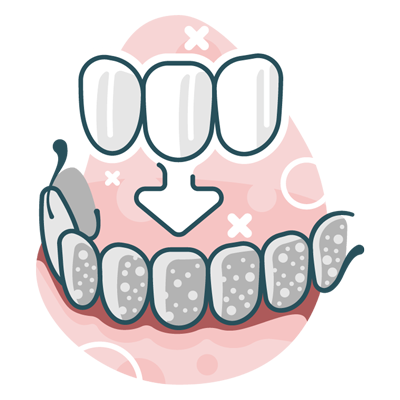 Also known as custom-fitted "shells," veneers are affixed and bonded to the front surfaces of the teeth in the area known as the smile "zone". They are used to cosmetically address teeth that are crooked or misshapen or to cover up gaps, stains, and chips in your teeth.
How are Porcelain Veneers Applied?
To create a customized, natural-appearing fit, Dr. Olesen begins by meeting with you to determine the look you'd like to achieve. She'll also examine your teeth to determine if veneers are an appropriate solution. Assessing your teeth to obtain an ideal color match will also be done. Then she will provide a wax-up and place it in your mouth so you can get an idea of what the result will look like. Dr. Olesen can make any adjustments to ensure your complete satisfaction.
Next, Dr. Olesen will lightly sand the enamel on the teeth that will be fitted with veneers. The purpose of this step is to retain a similar tooth thickness. Then, an impression of your teeth is taken. We do so to allow the veneers to be fashioned for an ideal fit, with the correct color and shape. While your veneers are being made at our high-end lab, we may place temporary veneers on your teeth until the permanent ones are ready.
When you return for the next visit, we will have you approve the color and shape of your new veneers before cementing them. Your teeth will be cleaned, and then a tooth-colored bonding adhesive is applied along with the veneers to cement them into place. Then the veneers are polished to blend in with your other teeth.
The Benefits of Porcelain Veneers
As a conservative dental approach to conceal teeth imperfections and fill in the gaps, porcelain veneers are an ideal choice for many reasons:
Little removal of tooth enamel is required
They provide a natural-looking alternative that is more affordable than crowns
They are durable and resist stains
When cared for properly, they can last 10-15 years
The procedure isn't painful
Porcelain veneers are more than great-looking; they're functional because they shield your damaged teeth. They also could save you time and money and eliminate the need for more invasive crowns if Dr. Olsen determines they are a good "fit" for your teeth!

Veneers Racine, Mount Pleasant, Caledonia, Sturtevant & Wind Point WI | (262) 633-4000