Restorative Dentistry Racine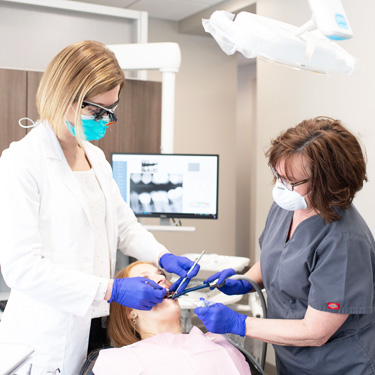 Of course, proper brushing, flossing and periodic cleanings and exams in our office contribute to a healthy smile. But sometimes, even with the best dental care, you can experience tooth decay, cracked and chipped teeth or even missing teeth that affect the way you look and feel about yourself. And that's where restorative dentistry comes in handy to correct your smile problem and restore your confidence!
We feature an array of restorative services to help you get your smile back:
Fillings
Despite our best efforts sometimes cavities still occur. We feature a variety of materials to fill your tooth.
Inlays and Onlays
Inlays and onlays are used to repair decay on the chewing surfaces of your rear teeth (molars). They can also be used to restore teeth that don't have enough damage to apply a crown.
Fixed Bridges
Do you have a gap in your mouth due to a missing tooth? Does it make you self-conscious because others can see it when you smile? What if you could get it fixed? Wouldn't that be a tremendous confidence booster?
A dental bridge is made up of two crowns on either side of the missing tooth connected to an artificial tooth, called a pontic, in the middle. These three "teeth" form the "bridge" that is matched to the color of your teeth and then cemented into place to provide a permanent solution to your missing tooth dilemma!
Crowns and Bridges for Implants
Though we don't do implants at the practice, we can create crowns and bridges to be placed on top of your implant.
Partial and Complete Dentures
Full Dentures replace all your teeth, and partial dentures replace several missing teeth.
Book a Consultation
Discover how our restorative dentistry options can help you to smile with confidence. Contact Belle City Family Dentistry serving the Racine & Mount Pleasant communities today to schedule an appointment!
CONTACT US »

Restorative Dentistry Racine, Mount Pleasant, Caledonia, Sturtevant & Wind Point WI | (262) 633-4000